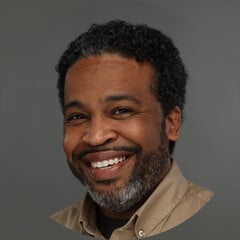 Tony Washington
Concept Artist, Illustrator and Music Producer
San Diego, United States
About
At the age of 18 after completing high school he joined the summer program at Cal Arts…
but the institution couldn't hold Tony for long; he already had a vision for his life's work. Tony
showed his impressive portfolio around the San Diego Comic-Con in 1995 and was hired by
Image Comics, a collective with a Marvel Comics pedigree, where Tony had his first encounter
with digital art. After 3 years with Image, Tony joined a San Diego company called Midway,
and spent 2 1/2 years creating video games.
For over the past 20+ years, Tony has successfully freelanced in multiple worlds:
for comicbooks, films, and conceptual art. His color, lighting and concept art for
such film projects as Teenaged Mutant Ninja Turtles has assured Tony's reputation
as a fine artist in the world of animation. He recently completed work on the
highest selling World of Warcraft comic series in Wildstorm/DC comics history
earning a spot on the New York Times best sellers list and the only Trade Paperback
book to make that list for WIldstorm's 18 year history. In addition he designed
promotional poster concepts for Lady Gaga's Monsters Ball Tour. He also completed
concept art for SONY PS3 titles Twisted Metal 3, Motorstorm Apocalypse and
Heroes on the Move. He recently completed art for Mix Master Mike's Magma
Chamber VR, Upperdeck's upcoming Pack of Lies TCG and 2 posters for The Crow
for them as well. His latest film work on the new Ratchet and Clank (Sony,
Rainmaker) CGI film released in April of 2016 as well. His current print and/or
digital work can be found on projects such as Blizzard Entertainment's Hearthstone
and The San Diego Comic Con Exclusive The Crow Poster for Upper Deck
Entertainment. He will be released his first VR work for the upcoming Magma
Chamber for Mix Master Mike of the Beastie Boys and received multiple awards.
Currently Tony is the Cinematics Team lead colorist for Konami's upcoming Multi-
Platform release Contra Rogue Corps, along with a illustration with the ACLU of
San Diego/Imperial County with multiple awards for his debut Constitution Day Art.
Skills
Compositing
Concept Art
Concept Design
Digital Painting
Illustration
Matte Painting
Graphic Design
Comic Art
Digital Art
Software proficiency

Photoshop

Procreate

CLIP STUDIO PAINT
Paintstorm Studio

SketchUp

Paper

Audition

Logic Audio

reason

native instruments
Reel
Productions
Commercial / Advertisement

The Crow - San Diego Comic Con Exclusive

Year

2016

Role

Artist

Company

Upper Deck

Music Video

Mix Master Mike - Magma Chamber VR

Year

2016

Role

Lead Concept / Environment / Texture / Storyboard Artist, Poster / Cover Artist, Sound Design

Company

Copeland Entertainment

Commercial / Advertisement

The Crow 20th Anniversary

Year

2015

Role

Artist

Company

Upper Deck

Movie

Ratchet & Clank CGI Motion Picture

Year

2016

Role

Lead Color Script Artist, CG Paint Over Artist

Company

Rainmaker Entertainment

Video Game

Sorcery

Year

2012

Role

Senior Cinematics Artist and E3 Banner Artist

Company

Sony Visual Arts And Services Group

Video Game

Twisted Metal

Year

2012

Role

Senior Concept Artist, Storyboard and Cinematic Artist

Company

Sony Visual Arts and Services Group

Video Game

MotorStorm: Apocalypse

Year

2011

Role

Senior Cinematic Artist, Lead Colorist

Company

Sony Visual Arts and Services Group

Video Game

PlayStation Move Heroes

Year

2011

Role

Senior Concept Artist, Colorist, E3 Banner Artist, CG Cover Paint Over Artist

Company

Sony Visual Arts And Services Group

Book

Darksiders Comic

Year

2008

Role

Co-Artist / Colorist

Company

Wildstorm / DC / Vigil

Book

World of Warcraft: Ashbringer

Year

2006

Role

Co-Artist - Colorist

Company

DC Comics / Blizzard Entertainment
Experience
Provided various album covers for Mix Master Mike of the Beastie Boys including the new Magma Chamber digital release witch is now wrapping VR production for a August 2016 release.

Artist on various trading card projects including the upcoming Pack of Lies and designed 2 different posters for The Crow, one being the 20th anniversary and the second was released at the 2016 San Diego Comic Con, as their exclusive poster.

I have provided art and color on Blizzard's New York Times Best Selling Ashbringer mini series along with the Curse of the Worgen, Trading Card games and recently Hearthstone Art.

Provided art for MotorStorm Apocalypse, Twisted Metal (PS3) , Playstation Heroes on the Move, Sorcery and an unannounced project for the PS4. Art varied from Concept art to storyboards along with E3 banner art.

Color / Lighting Script Lead, CG Paint Over Artist

Created art and colorist for Champion's Udyr and Shurima.

Colored various comic titles such as Marvel Comics Presents and Exiles. Recently

completed art and color for the animated series Super Hero Squad, Avengers and product Ultimate Spider-Man.

Created Concept Poster Art for Lady Gaga's Monsters Ball Tour.

Colored trading cards for Chaotic and Dino Kings

Colored flagship titles such as Wildcats, Gen 13, Wetworks. Also provided color and art to the

XBOX 360 / PS3 / PC game Darksiders comic. Provided art/color for the New York Times

Best Seller World of Warcraft: Ashbringer comic mini series and Curse of the Worgen.

Lead color script artist and concept artist for TMNT CGI film and provided concepts for Battle of the Planets.

Colorist of Elyne and Sam Catch